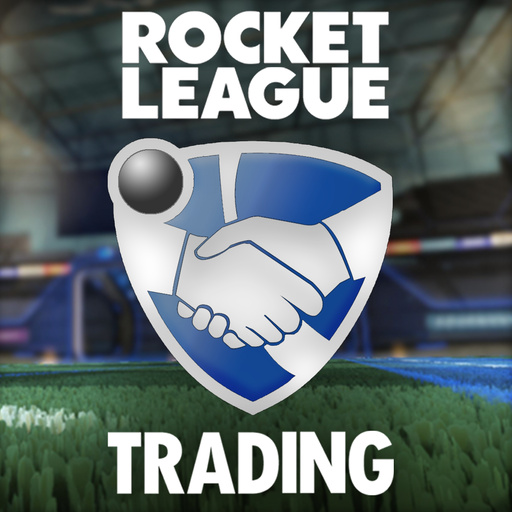 For games that offer tradable, in-game items, the methods used to exchange these "goods" from one user to another become hugely relevant and develop entire communities of their own (whether we like it or not!). Rocket League is no different, and its item economy has boomed along with the popularity of the game itself. With the amount of information out there and new cosmetics being released almost every update, getting your feet wet with trading or even staying up to speed can be a daunting task. Thankfully, we're here to answer all your questions!  This 'how to trade in Rocket League' guide is a comprehensive article describing all the aspects of the trading system, including item descriptions, how to get keys, how to trade, where to go to trade, and most importantly — how not to get ripped off in a trade. It is strange that a Rocket League Coaching group would provide a guide like this, but our goal is to coach the player how what trading is and how not to get scammed! Hopefully, at the end of this article, you will be informed enough to get out there and start trading in Rocket League!
How To Trade In Rocket League Guide TOC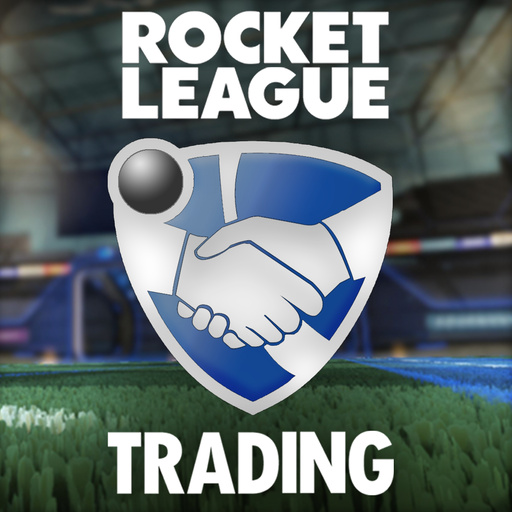 How To Get Keys In Rocket League
The most straightforward way of getting keys in Rocket League is to purchase them from the in-game menu. Purchasing keys directly from the in-game menu supports the developer, and a part of the proceeds go towards funding the Rocket League eSports scene. Keys purchased in-game cannot be traded for 7 days to protect users against fraudulent charges, so keep that in mind.
How To Get Free Rocket League Keys
This is what some of you are here for. Let's face it, the game doesn't give one an obvious way of getting keys for free like you might be able to in some F2P mobile games. There are, however, several ways to get Rocket League keys without spending your cold hard cash. They are:
Trade items to other players for keys
Trade crates to other players for keys
Using trade-ups for betters items and trading upgraded items
Trading items from RLCS events for Keys
Trade Items To Other Players for Keys
This is the simplest way. If you have items that other players want, you can trade them for items that you want. There are several places I'm going to recommend for you to go to trade without fear of getting scammed
Trade Crates To Other Players for Keys
If you are not going to use keys to open crates up yourself, this is a good way to get free rocket league keys. Crates drop regularly during online play. When new crates types come out, that is the best time to trade them as they can go for nearly a key a piece or 2 crates for a key. Other crates will fetch a much lower piece.
Using Trade Ins for Better Items and Trading Upgraded Items
With the newest update to the training up system there are some valuable items you can pull from the trade in system. In other to trade in your items, you need to trade in an item of the same rarity. The trade in system is shown in the video below:
Rocket league item trade ups|rare|very rare|
One of the more up to date trade in simulators out there is RL Market's simulator. You can go there and see what items you can get. As of this post, it does not include the new banner updates so it's a little out of data, but still helpful. Some valuable trade items you can obtain for free would include:
Any painted octane
Any painted breakout
Titanium white octane
White painted boosts
Painted banners
Opening Crates without Keys – Decryptors
During certain events like the Christmas event, you can purchase decryptors with in-game free currency for a limited amount of them. You can use this currency to purchase decryptors which are usually capped at 5. To maximize your returns, it would be best to use all your points for the special event crates and trade them away while the event is going on for free Rocket League keys.
How to Get Crates (The Rocket League Crate System)
There are 3 ways to get crates in Rocket League:
Play online matches
Trade items or keys to other players for crates
Purchase event-themed crates
Psyonix announced on May 22, 2017 that each different type of crate will be scheduled for retirement roughly six months after their initial release. This means that the retired crates will no longer drop after matches. Consequently, fewer types of crates can be acquired via online matches, increasing the chance for newer crates.
What is the Rocket League Crate Drop Rate?
There is no official statement from Psyonix regarding this. Players have theorized that the crate drop is around 10 hours per crate. However, keep in mind that drops occur randomly and on a weekly basis they get reset. Drops also occur unevenly so one week you make get 1 crate and the next week you might get 4.
Rocket League Crate Farming
Crate farming is a bannable offense in Rocket League. Given how random crate drops are in-game, the best recommendation would be to just play and not worry about it or utilizing additional Rocket League accounts (Smurfs) if you play more than 10 hours a week.
Rocket League Item Rarity Levels
There are 7 levels of rarity associated with items. Here they are, from most common to least common:
Common
Uncommon
Rare
Very Rare
Import
Exotic
Black Market*
You can trade up 5 items of the same rarity to receive one item from the next-highest tier. If you are trading in items from crates, all 5 items must be from the same crate, and you will receive one item of the next-highest rarity level from that crate. Note that you cannot trade up to black market rarity. You can only receive black market items from opening crates or trading other players.
Certified Items In Rocket League 
When you receive an item, either from a drop or a crate, there is a small chance that the item will have special attributes. They can either be painted or certified (or both, if you're lucky!). Certified items will keep track of a specific in-game stats as long as you have that item equipped on your car (online matches only).
In total, there are 15 certifications. Here they are, along with the stat that they keep track of:
Acrobat (Bicycle Goals)
Aviator (Aerial Goals)
Goalkeeper (Saves)
Guardian (Epic Saves)
Juggler (Juggles)
Paragon (MVP)
Playmaker (Assists)
Scorer (Goals)
Show-Off (Backwards Goals)
Sniper (Long Goals)
Striker (Shots on Goal) – Popular
Sweeper (Clear Balls)
Tactician (Center Balls)  – Popular
Turtle (Turtle Goals)
Victor (Wins)
Leveling Up Certified Items in Rocket League
http://rocketleague.wikia.com/wiki/Certified_Items
In addition, you can level up item certifications by hitting milestones in each stat. There are 10 levels for each tag. The Each certification has different milestones. Here are the 1-5 levels titles:
Certified
Capable
Skillful
Veteran
Fantastic
After level 5 there are 5 more additional titles. The names differ depending on the certification, but they are listed below (Source – Rocket League wiki):
Tag Name
Level 6
1000-1999
Level 7
2000-4999
Level 8
5000-9999
Level 9
10000-17999
Level 10
18000-∞
Striker
Incredible
Absurd
Unreal
Unrelenting
Berserker
Sweeper
Ridiculous
Unbelievable
Preposterous
Stupendous
Chief Custodian
Tactician
Ridiculous
Unbelievable
Preposterous
Tremendous
Master Planner
Tag Name
Level 6
500-999
Level 7
1000-2499
Level 8
2500-4999
Level 9
5000-8999
Level 10
9000-∞
Acrobat
Ridiculous
Unbelievable
Preposterous
Astounding
Cyclist
Aviator
Incredible
Absurd
Unreal
Audacious
Aerial Ace
Goalkeeper
Ridiculous
Unbelievable
Preposterous
Impenetrable
Immovable Object
Guardian
Ridiculous
Unbelievable
Preposterous
Gallant
Guardian Angel
Juggler
Incredible
Absurd
Unreal
Marvelous
Magician
Playmaker
Incredible
Absurd
Unreal
Psychic
Unsung Hero
Scorer
Incredible
Absurd
Unreal
Supersonic
Unstoppable Force
Show-Off
Daring
Relentless
Exhausting
Cheeky
Total Showboat
Sniper
Incredible
Absurd
Unreal
Unforgiving
Cold-Blooded
Turtle
Ridiculous
Unbelievable
Reckless
Timeless
Turtle God
Tag Name
Level 6
250-499
Level 7
500-1249
Level 8
1250-2499
Level 9
2500-4499
Level 10
4500-∞
Paragon
Determined
Stunning
Wonderful
Eternal
The Most Valuable
Victor
Daring
Relentless
Fearless
Valiant
Unbeatable
There is no set value for level 5+ certification and given the level of effort needed to get them, it is not recommended to trade them.
Painted Items in Rocket League
The painted attribute alters the appearance of an item to emphasize a specific color or color scheme. For example, a cobalt-painted Chakram wheel will cause the spokes and rim of the wheel to appear blue, even though Chakram wheels normally appear red.
There are 13 different paint colors in Rocket League:
Black
Burnt Sienna (Brown)
Cobalt (Blue)
Crimson (Red)
Forest Green
Grey
Lime
Orange
Purple
Saffron (Yellow)
Sky Blue
Titanium White – Most valuable
Pink
Note: not all items have painted variants, and not all items that can be painted have all 13 paint colors available.
Best Places To Go Trade For Items (And Rocket League Price Lists Sites)
Know that you know about different, crates, items, and attributes, you probably want to know where to go to trade and look up prices. I'm going to just say this straight up that I only recommend ONE website that you use to conduct trades. That would be Reddit's R/RocketLeagueExchange
R/RocketLeagueExchange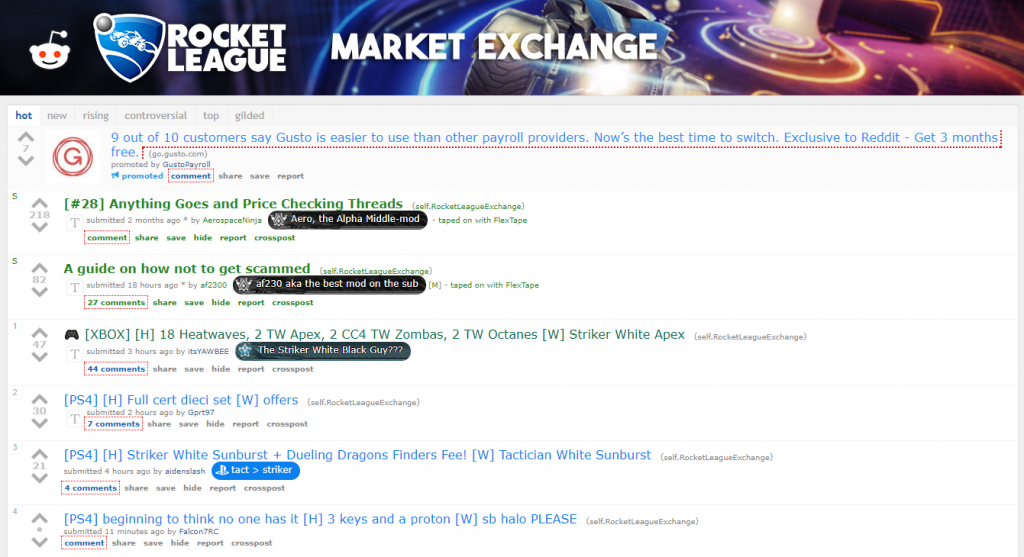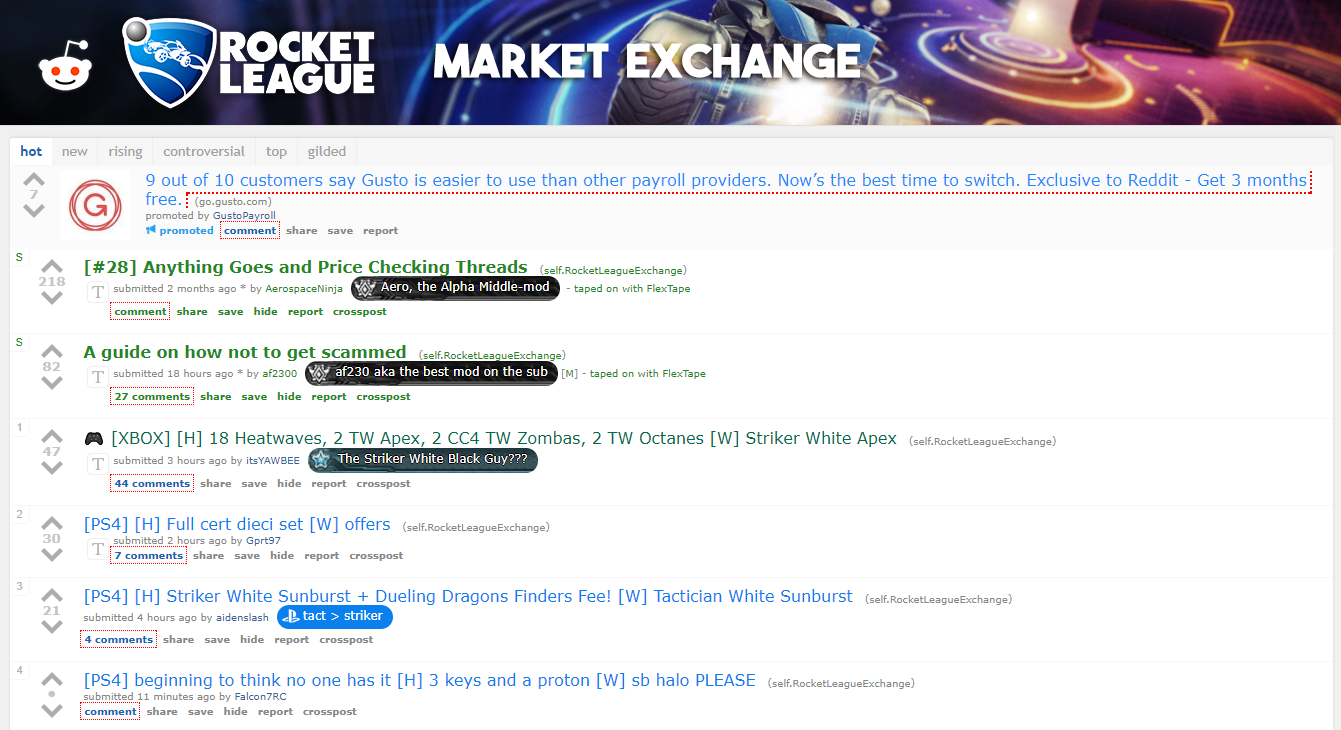 It's very active community and legitimate place to post trades and make exchanges. There is also a price checking trend where you can ask the price for items. Here is why I only recommend them:
They Do Not Control The Rocket league Trading Market
The subreddit is an independent site where you can meet other peers and get trusted values assessments for trades. They do not own a value database like other sites so all the pricing info you get is from the players and from grassroots.
They are not tied or have partnerships with paid trading
This is the biggest pitch from me to you about why you should only trade here. Many trade sites are either affiliated with larger website networks (which means they are backed behind commercial websites) or they take paid ad placements from paid trading sites. Paid trading is where things can go seriously wrong with Rocket League Training. It is also against the terms of service in the game. Just like you trust us for your Rocket League Coaching needs because we are free and independent, go with the trading community that promotes the same philosophy. The trading system was designed to be free and using the keys system is one of the best ways to directly support the developers.
They Have A Trusted Middleman Network
I'll get into common rocket league trading scams later in this post. Middleman scams are one of the most harmful and common scams in the trading community. You should NEVER for valuable items unless you have a trusted middleman to conduct your trade. The R/rocketleagueexchange maintains since a network and these middlemen have experience in handling these transactions in a mature and friendly way.
Should I Use A Rocket League Prices Spreadsheets?
With all these sites out now that provide up to date information and the trading subreddit, a google spreadsheet is really not a reliable way to go to get up to date Rocket League trading information. It is better to go to the subreddit to check for prices and to find other players who want to trade with you.
How Do I Avoid Getting Ripped Off on Rocket League Trades?
Here are some quick tips to avoid getting ripped off on a Rocket League trade
How To Trade In Rocket League Scam Avoidance – Never trade for real money!
This is the #1 reason on how people get scammed or ripped off on trades. It is very easy to scam someone with a real money trade exploiting charge-backs and paypal or simply by having you trade first. It is just best to just avoid it completely and only trade with keys.
Get familiar with Rocket League item prices
Spending a few days not trading, but instead looking at trade sites like r/rocketleagueexchange will give you a good idea about prices and want players are willing to trade for.
Common Scams
Here is a list of Rocket League Trading scamming methods and how to avoid them.
Trade Stuffing Scam
A common scam technique is when you are trading with someone and they add some junk items in the trade window. They will add a lot of them and then add the item you want. Then, just before accepting the trade, they will remove the item you want from the list hoping you will not notice. When you see traders like this, just reject it and kick them from your party. It's not worth the risk and do not even roll with their lame excuse that they are just messing around. A lot of people get scammed this way. An example video of the tactic is shown below:
The Fake Color Scam
This method uses the image preview of an item in the trade window to fool you into thinking it is a better item. The best way to avoid this scam if you are on console is to hover over the item that the player has put down and use the L3 button so you can see the color. On PC, look for a button near the item called "show item details". Example video is below:
Reddit user /u/dylan_aliff whos PSN is Spirtlink427 Scam Video Proof
The Fake Middleman Scam
A middleman is used where there is an item you are trading for that involves more than 50 items (e.g. – very valuable items). A middleman is utilized to ensure both players are protected when the trade is being performed. The middleman collects and distributes the items so there are no problems. This scam involves using a fake middleman. The middleman will collect the items from you and then will disappear.
The best way to avoid this scam is to only deal with middleman transactions with a trusted source. R/rocketleagueexchange maintains an updated list of trusted middleman that you can use for your high-value transactions. The link to the trend is here.
Too Good To Be True Scams
A not well known, but very effective scam that preys on the excitement when trading. This scam will involve 2 traders. One will post an amazing offer for a very specific item. It looks like a great deal, but you do not have this item because it is very specific. Then, right after this trading post, you see another with the item you need! The specfic item is a low value item and the trade is asking for 3-4 keys. It is overpaying, but it seems worth it because you will get more keys out of the second deal so you jump in. You trade your keys for this item and the other player you try to get a hold of never responds.
The best way to avoid these scams is to not trust these too good to be true offers. They are likely scams — and also avoid two deal trades unless you are using a trusted middleman.
Duplicating Items Scam
This has been a well known scam in any game with a trading system. It's a classic scam that claims many victims everyday. The scammer will claim to know a glitch or have a program that can duplicate item. They may actually should you how they "duplicate" an sample low value item in an attempt to prove what they are saying is true. This trick is easy to exploit in game because the scammer can show you the item, but this item is a client side version. They will use this to bait you into attempting to duplicate a more valuable item, which they will happily steal from you and leave you with the fake "duplicate" version, which will disappear soon after.
This scam is a little hard to explain in words, so here is a video that shows how the scam works:
Rocket League – Ghost Item/Duplication Glitch – Don't get Scammed!
The best way to avoid this scam is to ignore players offering rocket league item duplication. Like I said, duplication in video games with trade systems is one of the most common scams and has been used for years to scam players. Don't be a victim!
Scamming Using Gift Cards or Payment Through Paypal
A scammer will attempt to give you a gift card or paypal money for your rocket league item (e.g. – pay you money for your item). They may even attempt to overpay you to get you to bite. They will usually try to get you to provide the item first, then will quickly go away and steal your item. Another method is they will attempt to use a middleman for the transaction, then the middleman will steal your item. They can also give you an invalid gift card code.
The best way to avoid this is to simply avoid trading for real life money. Stick to using keys and the trade system itself.
Popular Items with Approximate Value (in Keys/on PC) *as of 1/20/18
Here is a list of popular items with approximate value. Any of these items below are highly sought after and will likely maintain a high key value throughout the life of Rocket League
Titanium White Zomba = 170-180
Titanium White Octane = 100-110
Heatwave Decal = 20-24
Dueling Dragons Goal Explosion = 23-26
Titanium White Apex Wheels = 100+ Keys
Note: The value of items can change quickly based on many different factors. Prices listed may not be accurate.
Most Valuable (Expensive) Rocket League Create Items
People have asked this in the past on our discord server so I wanted to list it here. In summary, the most expensive or valuable items in Rocket League at Alpha items and the infamous white hat. Values are shown below as of the date of this post.
Goldrush Boost = 1400-1500
Goldstone Wheels = 1300-1400
Alpha Cap = 200-210
White Hat = 3000+ Keys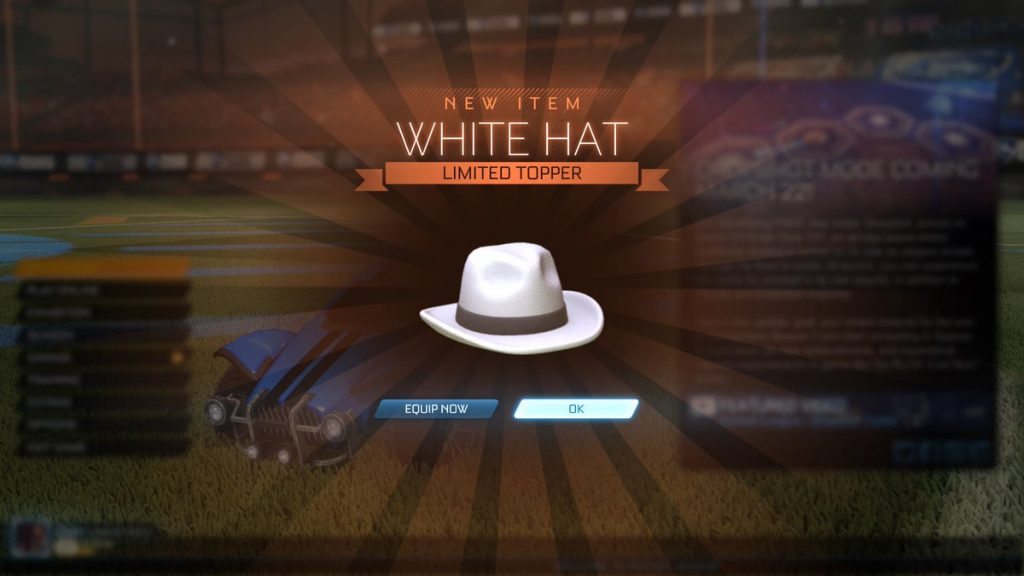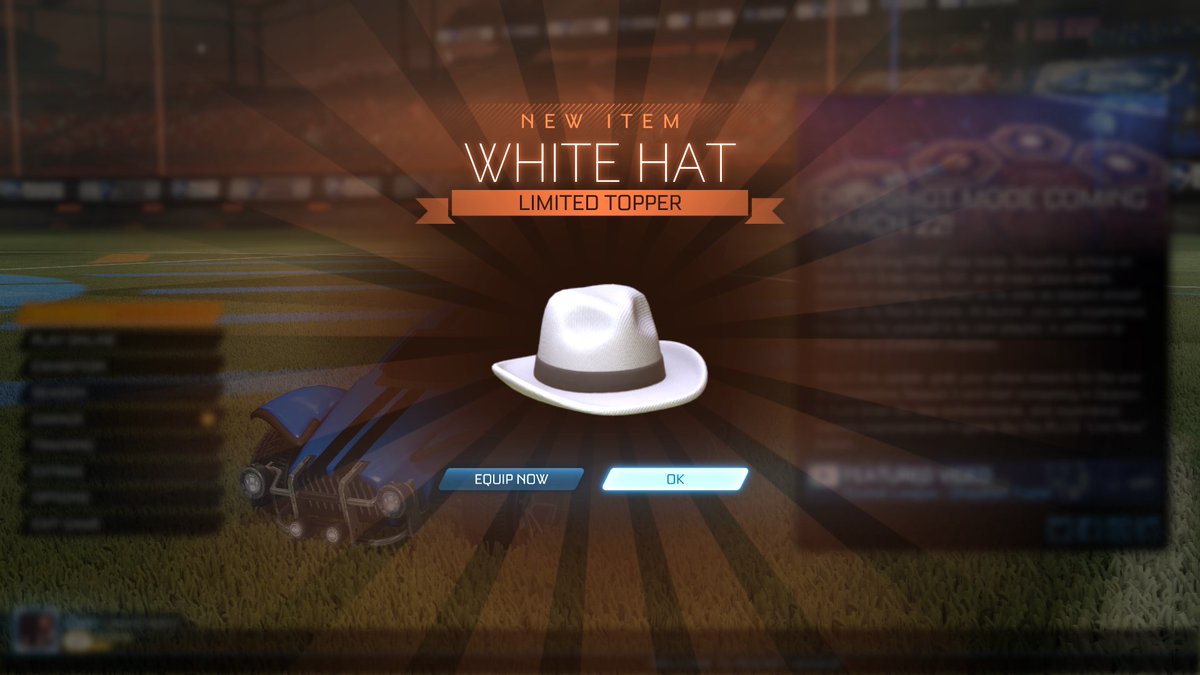 The White Hat is perhaps the rarest of all Rocket League items, which is worth at least 3,000 keys (and that's being conservative). There is no real way to obtain this hat via crates, and people who have found and reported game-breaking bugs to Psyonix. Considering all that, you can imagine how few of these hats exist within the Rocket League community.
The first person to ever get this hat reported an extremely game-breaking bug, which would have allowed him to change anybody's level at any point in time. Instead of abusing the bug, he hid it from everyone else and reported it immediately to the developers in hopes of keeping his favorite game clean and fun. While Psyonix wanted to pay him monetary compensation for his honesty, he declined, and instead, created the unique white hat we know today. Don't ever let anybody tell you that last folks finish last!
How To Trade In Rocket League Author Bio
MatthewIcicle is a longtime community member and a part of RLCD's events & media team. He enjoys running tournaments, opening unwarranted amounts of crates, and mediocre games of solo standard.